Data, Governance, & Security at ACT-IAC IT Management and Modernization COI Meeting
Tuesday, March 9, 2021 - 11AM-12PM EST
Overview
Featured Topic: Data, Governance & Security
Join the ACT-IAC IT Management and Modernization COI for a member meeting featuring a panel of government leaders on how they are leveraging technology to strengthen data, governance, security in their agencies.
Invited Speakers
Gerald Caron, Director of Enterprise Network Management, Department of State
(Invited) Ron Thompson, Associate Chief Information Officer for Transformation and Data and Chief Data Officer, NASA
(Invited) Thomas Beach, Interim Chief Data Officer, US Patent and Trademark Office
About the Speakers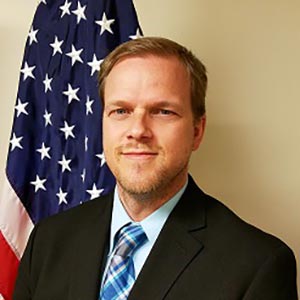 Gerald Caron assumed the duties of Senior Executive as the Acting Director of Enterprise Network Management (ENM) within the Directorate of Operations in the Bureau of Information Resource Management (IRM) in June 2016.
Mr. Caron has over 23 years of information technology experience. He began his career in the US Army working in hands-on technical positions serving for 7 years as a Programmer and Administrator. Mr. Caron then spent 2 years as a contractor with the federal government, where he acquired more refined technical skills and a more detailed understanding of IT operations. He joined the federal government at the Department of State (DOS) in 2003 as a Systems Administrator. He has held five different positions at the Department, moving from managing small technical groups leading up to his current role as the ENM Director.
One of his most significant accomplishments was acting as the technical liaison during a major cyber security event at the Department. His leadership allowed the Department to resolve the incident as quickly and effectively as possible.
As the Director of ENM, Mr. Caron is personally responsible for the leadership of the largest office within the IRM bureau. He is responsible for establishing a strategy, managing the financial portfolio of over $200 million and prioritization of work across a wide range of disciplines. Since taking over this role he has lead the re-engineering of the Department's primary Identity and Access Management solutions. He has also formed teams from both government, contractor and vendor resources to address key security efforts needed to mitigate future potential cybersecurity attacks through collaborative efforts. He is primary in leading the Department's Active Directory infrastructure to become a state of the art technological solution significantly improving security, working with management and stakeholders with coalitions across department and bureau lines.
Mr. Caron received his Associate's Degree (Magna Cum Laude) in Computer Information Systems, Network Administration from the Northern Virginia Community College. At the Department of State he also has received training in Executive Potential Program from the USDA Graduate School in 2009 and Advanced Leadership Skills in 2014. He is a Certified Project Management Professional (PMP) since 2009, and received his Federal IT Security Manager Certification (FITSP-M) in 2017. Mr. Caron has received seven individual awards for his exceptional service since 2004.
Ron Thompson is the Associate Chief Information Officer for (ACIO) for Transformation and Data and NASA's Chief Data Officer (CDO). Mr. Thompson has more than 25 years of experience in the public and private sectors where he was responsible for the data design, innovation, engineering, operational management, and governance of complex IT solutions. Ron's hands-on experience in organizational design and transformation bring new perspectives to partnerships and creative problem solving.
Prior to joining NASA, Thompson served as Director of the Information Technology Division and Chief Information Officer of US Department of Agriculture's National Agricultural Statistics Service, charged with protecting agency data and providing IT services. He was responsible for innovative solutions and designs while maintaining systems for data capture, analysis, and dissemination.
As the Principal Deputy Assistant Secretary of Information and Technology at the Department of Veterans Affairs (VA) from 2016-2017, Ron improved the efficiency and effectiveness of program operations and assisted administrations across the department.
Before serving at the VA, Thompson was the Executive Director for Engineering, Design and Operations in the Department of Health and Human Services' Office of the Chief Information Officer. In this role, he transformed the IT service management model which increased service levels, ensured reliance and agility, and lowered overall costs. Ron also led the implementation of IT governance and innovation across the Domain Governance Office, focusing on improved business outcomes from the agency's IT investments.
From 2009 to 2011, Ron held the position of Director of Program Management and Finance for the Internal Revenue Service where he managed finance, employee and labor relations, and talent management. His federal service also includes Chief Enterprise Architect and Program Manager for the Data Access and Dissemination System Office within the US Census Bureau and Director of Web Application Infrastructure with the Department of Treasury.
In the private sector, Thompson held Senior Account Manager and Consulting Manager positions with Hewlett Packard and Compaq Computer, leading software development, system design, and program execution.
Thompson is a fellow in the American Council for Technology-Industry Advisory Council (ACT-IAC). He has an Executive Masters of Business Administration and Bachelor of Science in Information Systems Management, both from the University of Maryland. Ron resides in Maryland with his wife and two sons, and is active in the Boy Scouts of America as Scoutmaster.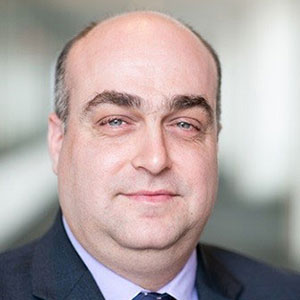 Thomas Beach serves as the Chief Data Strategist and Portfolio Manager of Patents End to End (PE2E) and Patent Trial & Appeal Board End-to-End (PTAB E2E) for the United States Patent and Trademark Office (USPTO).  As the Chief Data Strategist, Mr. Beach serves as part data strategist and adviser on the role data plays at USPTO, part steward for improving data quality and data sharing, and part technologist and developer of new data prod-ucts.  As a Portfolio Manager, Mr. Beach manages the business relationship between the IT and Patents and PTAB business units to ensure that Patents and PTAB have the most effective, modern IT to support patent application examination and review today and in the future.  Mr. Beach joined the USPTO in 1995 as a patent examiner in excavation and mining and became a supervisory  patent  examiner  in  2011  in  Offshore  Oil  &  Gas  Technologies  and  Business  Methods.    Mr.  Beach  has  further  served  on  a  detail  at  the  Partnership  for  Public  Service  in  Washington,  DC,  focusing on the Ready to Govern: Improving the Presidential Transition program and as a Senior Ad-visor in Office of the Under Secretary of Commerce for Intellectual Property at the United States Pa-tent and Trademark Office (USPTO).   As a graduate from the Georgia Institute of Technology in Engineering, Mr. Beach received his Mas-ter's Degree from Georgetown University's McDonough School of Business.