Briefing on OMB's 2018 Federal Workforce Symposium (Evolving the Workforce COI meeting)
Thursday, April 11, 2019 - 10AM-11:30AM EDT
Venue Address:
ICF International (Farragut Center building)
Washington, DC
,
DC
Overview
Featured Topic:  Briefing on OMB's 2018 Federal Workforce Symposium
Join the Evolving the Workforce COI for an enlightening presentation on the Federal workforce challenges and opportunities discussed at Office of Management and Budget's (OMB) 2018 Federal Workforce Symposium, featuring speakers from OMB and MITRE who led the design and execution of the September 2018 event. This session will also address the recommendations highlighted in MITRE's post-Symposium report, and progress to date. We think you will find this session valuable as you work to optimize your agency's workforce performance.  You and your team can attend in person, or online.
Session Background: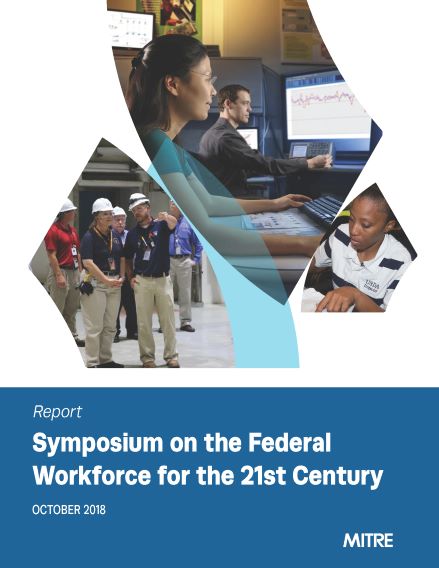 On September 12, 2018, the Office of Management and Budget (OMB) convened more than 150 experts and leaders from across the country for a full-day symposium on strategies for improving the federal workforce in support of the President's Management Agenda (PMA) on modernizing the federal government.  The objectives of the symposium were to share leading workforce development and management practices from the private and public sectors and identify next steps the federal government might take to address cross-agency people and workforce challenges. Ultimately, the goal was to energize momentum around the PMA to drive progress and fuel the government's future workforce.
Participants came from all sectors, including the private and public sector, academia, and nonprofits, and represented a cross-section of functional areas such as human resources (HR), operations, information technology, and change management. OMB's goal was to get a perspective from both "inside and outside the Beltway." The day's activities included presentations and panel discussions to share experiences, followed by in-depth roundtables with diverse teams of participants, to begin applying learnings to government use cases.
This presentation to the EWF COI will provide perspective on the key take-aways from the discussions of that day; identify the challenges and opportunities that emerged from those discussions; and provide a set of recommended practices and actions for the government to consider, aligned with the intent and vision of the workforce strategies in the PMA.
Speakers:
Kristy Daphnis, Team Lead for Government-wide Personnel Issues, Office of Performance and Personnel Management, Office of Management and Budget
Jim Cook, Vice President, Strategic Engagement and Partnerships, MITRE
Venue:
ICF Concourse Conference Room
1725 I (Eye) Street, NW
Washington, DC
Closest Metro: Farragut West
Remote participation logistics will be provided upon registration.
We look forward to seeing you there!