Smithsonian Institution's Accessibility Program at ACT-IAC Emerging Technology COI
Tuesday, August 18, 2020 - 10AM-11:30AM EDT
Overview
Topic: "Emerging Technology + Accessibility" with Invited speaker Beth Ziebarth, Director of the Smithsonian Institution's Accessibility Program
Join the ACT-IAC Emerging Technology COI meeting for a discussion on emerging technologies and accessibility with guest speaker Beth Ziebarth from the Smithsonian Institution. Beth will speak about several forms of assistive technologies the Smithsonian is using for visitors; provide a visual description initiative; and highlight the importance of working with individuals with disabilities for prototype testing and understanding user preferences.
Section 508, ADA, WCAG are various laws regulations that ensure that private and public sector spaces where we work, visit or transact business are accessible to those who need specific accommodations along with those who do not.
 
The Emerging Technologies COI will facilitate a conversation for agencies as they define and address this problem space.
About the Speaker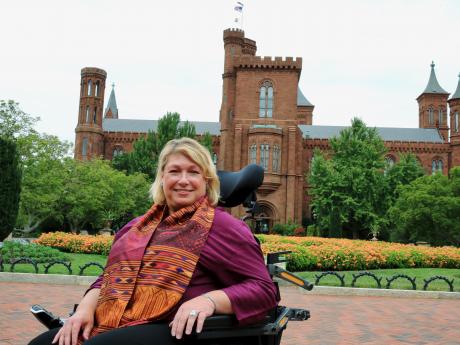 Beth Ziebarth, Director
Beth Ziebarth has a personal interest and professional responsibility in advocacy for people with disabilities.  She currently serves as the director of Access Smithsonian.  In her position, Beth develops and implements accessibility policy and guidelines for the Institution's 19 museums, the National Zoo, and nine research centers, ensuring that the Smithsonian's 30 million annual visitors experience a welcoming environment that accommodates individuals of all ages and abilities.  Her work includes staff training on accessibility and disability topics, facility and program technical assistance, direct accessibility services, outreach and collaboration, and five signature programs for people with disabilities.